Th-th-th-that's all folks. I'll be taking a short break from blogging to recharge my batteries. I don't think I'll be as crazy with the updates next year, but I'll cross that bridge when I get there. Hope you guys enjoyed "6 Degrees of Celebration"!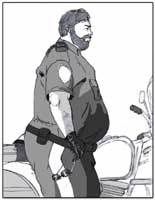 New artwork: This series of drawings was inspired by a CYOC chapter written by Alyn Roze and which he graciously let me help re-envision into a series of new stories.
New stories:
An Inalienable Right to Privacy
Our Paradoxical Attitudes Toward Privacy
Big Think: "Privacy is in pretty great danger"
'I've Got Nothing to Hide' and Other Misunderstandings of Privacy
Google says "complete privacy does not exist"--But doing evil now does?